Profiles
---
"Sceptre is a leading innovator for LCD/HDTV for over 30 years. Sceptre's headquarter is located in the City of Industry, the hub of the computer industry."
Sceptre's constant dedication to improving new and advanced technology in the last 36 years, allowed a strong platform to build an empire of new and advanced display technology. From 1984 to 2021, the company has made many new innovative products before their time and caught many competitors by surprise. Releasing pioneering CRT technology in 1984 has lead Sceptre's Research and Development (R&D) labs to undergo a transformation that tours LCD technology. Sceptre's research and development lab's first generation of LCD's was introduced as early as 1993, with a proven track record leading up to today's technological innovations such as LED and three-dimensional displays.
This new direction has allowed Sceptre's R&D labs to be subjected to new developments in technology not only in LCD display, but also in HDTV LED and three-dimensional technology. Sceptre's R&D Lab have position Sceptre a leading innovator in the LCD/LED display industry. Manufacturing world-class products is just the tip of Sceptre's full potential. What unfolds the key to Sceptre's success is understanding and providing the different services to each of our partners and channels, which entails the trust of many. Sceptre's goal is to progress through business relations with Mass retail, E-commerce, Fortune 500 companies, Government partners, and smaller businesses nationwide, using research and development innovations in streamlined technology with first class service.
As our research and development history demonstrates, we are committed to maintain our status as a leader in the industry by providing the latest research and development advances in LCD, LED and HDTV technology. Sceptre's high end product quality partnered with the industry's highest specification, places Sceptre's Research and Development labs apart from others within the industry. This is possible through our dedicated research and sophisticated development and helps Sceptre excel in offering the additional benefit of customized solutions.
1984 Monochrome/ Color Display for PC
1993 LCD Display for the Industry
2000 LCD TV for CE Industry
2006 LCD Display for digital signage
2009 LED Display for TV/Monitor
2010 Intelligent Tool-less TV desk/stand
2011 LED Display for 3D HDTV
2012 LED Display for 3D HDTV with IPTV
2013 LED large screen HDTV with touch screen panel
2014 4K Ultra High Definition TV
2015 4K UHD with Touch Screen Panel
Goals
Committed to maintaining status as a leader in the industry by providing latest research and development advances in LCD, LED, and HDTV technology.
Progressive growth in innovative technology
Advancement in Mass retails and E-commerce.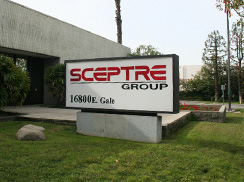 Quick Facts
Sceptre Inc.

September 1984

www.sceptre.com

16800 Gale Ave
City of Industry,
CA 91745